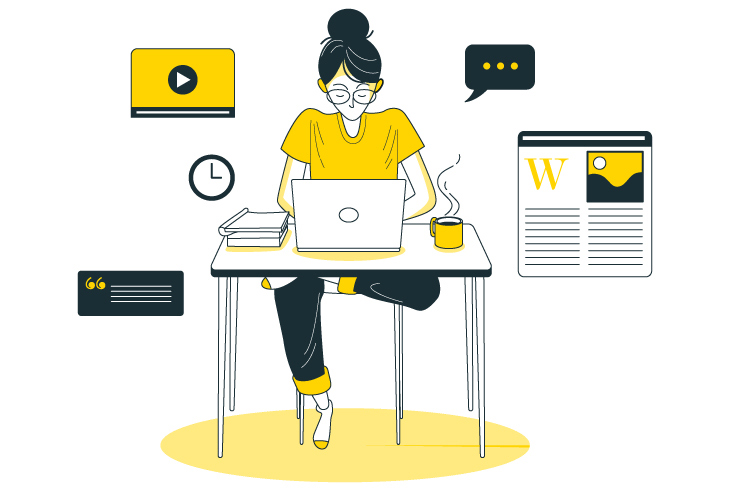 Copywriting Agencies: 3 Common Mistakes When Choosing and How to Avoid Them
Isn't the world of eCommerce a thrilling ride?
You've got your store up and running, your products are flying off the digital shelves, and now, you're ready to take things up a notch.
You know that content is king and that it can be your secret weapon in this fiercely competitive marketplace.
But let's face it, crafting compelling content isn't easy. Even more so, when you are navigating the tricky waters of product sourcing, customer service, and website maintenance.
Enter copywriting agencies, potential knights in shining armor ready to fight the content battle for you. But before you rush to delegate your content needs, there's a caveat.
Hiring a copywriting agency can be akin to navigating a minefield. One wrong step and you've got wasted time, lost resources, and worse, your brand's reputation might be on the line.
So you're thinking, "Do I need a copywriting agency? Absolutely. But how do I ensure I choose the right one?" We hear you.
That's why we have crafted this article—to steer you clear of the most common pitfalls when selecting a copywriting agency and guide you towards a choice that delivers the ROI your eCommerce store deserves. You'll learn:
Key considerations in the hunt for an eCommerce copywriting agency
Mastering portfolio assessment for brand and industry fit
Making sure your copy and target audience are in sync, and how CopySmiths achieves this
Crucial queries on process, pricing, and collaboration, plus the scoop on testimonials and reviews for a well-rounded agency pick
Now, equipped with this understanding, let's venture into the first mistake you might stumble upon when scouting for the right copywriting agency.
1: Neglecting to Define Your Value Proposition
Without an effective value proposition, your messaging may not resonate with your audience and fail to drive conversions.
An effective value proposition goes beyond stating product features; it captures what makes your brand unique and demonstrates clear benefits for the customer.
For example, an ineffective value proposition for an eCommerce store focused on selling baby-friendly house cleaning products might be something like: "Our products clean your house."
It's vague, uninspiring, and doesn't differentiate the brand from thousands of other cleaning products on the market.
Unlocking Your Unique Value Proposition
To identify your unique value proposition, you have to examine:
Your customers' demographics, preferences, and pain points
What makes your product or service unique
What your competitors are offering and how they position themselves in the market
What your business does exceptionally well
Your value proposition comprises these insights about your customers, your product/service, your competition, and your unique strengths. It clearly articulates what you offer, who you offer it to, and why it's superior to alternatives.
Using the example of the store selling baby-friendly cleaning products, an effective value proposition might be:
"Our baby-safe house cleaning products ensure a deep clean without compromising your little one's health. Enjoy a sparkling home and peace of mind."
This value proposition speaks directly to the business's target audience and communicates a clear, compelling reason to choose its products.
Once you understand what makes your products or services stand out, let potential agencies know about it.
Ask them to show you some examples of how they'd highlight these value propositions in their writing. This way, you can see if they really get your business value and can communicate it professionally to promote customer engagement.
Here's another example: let's say you have an eCommerce store that sells handcrafted leather goods. Your customers are professionals who appreciate high-quality, stylish accessories.
Your products are made using traditional techniques passed down through generations, and you source all your materials sustainably.
Your main competitors are mass-produced leather goods companies.
Then, your unique value proposition might be, "Sustainably sourced, handcrafted leather goods for the discerning professional who values quality and style."
By clearly defining your value proposition and ensuring the agency can articulate it effectively, you improve the chances of attracting and retaining customers.
Using the example above, a professional copywriting agency can key into the organization's value proposition by:
Crafting compelling website copy e.g. a home page tagline like, "For the modern professional: Luxurious, handcrafted leather goods that are as kind to the planet as they are to your style."
Including product descriptions for each product listed on the website emphasizing sustainable sourcing options and the handcrafted nature of the products.
Posting blog posts that tell the story of the brand covering topics like the handcrafting process, the benefits of sustainable sourcing, style guides, or features on the professionals who use and love the products.
Pro Tip: Work with a copywriting agency like CopySmiths that understands the importance of capturing your value proposition and incorporating it into all aspects of your copy.
2: Overlooking Target Audience Alignment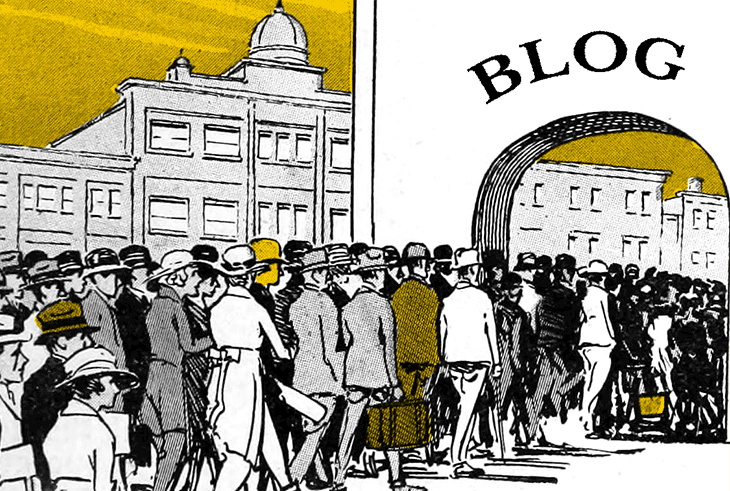 Let's talk about a usual snag in the eCommerce world: not thinking of your target audience when selecting a copywriting agency.
Here's how this might play out: Say you run "EcoPure," an eCommerce store catering to environmentally-conscious women with organic skincare products.
You stumble upon "Bright Copy," an acclaimed agency with a tech-focused portfolio. Swept up by their credentials, you hire them, overlooking their tech-oriented style.
Their copy, while sharp, is heavily tech-infused and corporate. It misses the mark with your audience, who are looking for simple, reassuring information about eco-friendly skincare.
The result? A disconnect with your customers, underwhelming sales, and a struggling brand image.
This exemplifies why understanding your audience is crucial when choosing a copywriting agency.
Evaluating Your Audience Alignment: A Crucial Checkpoint
To evaluate audience alignment, you must first know your audience inside out.
Discover their preferences, challenges, and goals. This understanding lays the foundation for your messaging.
Let's take the example of Shopify, a comprehensive eCommerce platform, catering to a wide range of audiences who are at different stages of running a business—from those who are just starting to seasoned business owners who are looking to scale up.
As such, they have a variety of content, befitting where their clients are in their business.
There is plenty of educational content for budding entrepreneurs on the basics of starting an online store, sales, and marketing strategies, and using the Shopify App Store to automate, optimize, and grow for those scaling their businesses.
Additionally, those managing businesses are exposed to content such as improving customer retention, eCommerce industry trends, and using data analytics.
Then, you must identify your brand voice. It is the soul of your eCommerce store. Is the voice formal, casual, funny, or authoritative?
Using the example above, we can tell that Shopify takes an educational and professional tone in their blog posts. This showcases their expertise, and builds trust and credibility with store owners.
Just as well, the terms used strike a chord with individuals in eCommerce. Some of these include "conversion rates", "abandoned carts", and "lost sales". 
If this article found its way to a blog for an eCommerce store selling mindfulness books, it'd be entirely off-target. Similarly, Shopify can't include jokes and puns in its blog posts. 
Next up, the agency. Does their writing sync with your brand, or might it muddy your image? Let's say you're a luxury fashion brand with an elegant voice, but the agency produces playful, casual copy. That's a recipe for confusion.
Then, there's cultural sensitivity. The agency must be aware of cultural nuances to avoid unintentional offense.
Lastly, the right agency must be adept at crafting copy that resonates with your unique audience, sparks action, and cultivates loyalty. CopySmiths shines here. We ensure your brand voice is a direct and friendly call to your customers.
3: Underestimating Industry Expertise
Understanding your industry's unique language and trends is crucial for a copywriting agency.
Without this expertise, the produced website content might miss the mark with your audience. For instance, using technical jargon in a DIY crafts industry alienates customers looking for simple, friendly advice.
Without these competencies, you'll face needless complications.
How to ensure your chosen agency fits the bill? Here are some streamlined steps:
1: Analyzing Their Professional Portfolio
Evaluating an agency's past work can offer significant insight into their industry understanding. Look for understanding of market trends and consumer behavior.
When looking through an agency's portfolio, evaluate:
Quality of writing: Is the copy clear, engaging, and persuasive? It should effectively communicate product features, benefits, and the brand's unique value.
SEO knowledge: Is the content SEO-optimized? Look for appropriate use of keywords, tags, and meta descriptions.
Brand voice consistency: Can the agency capture and maintain the brand's unique voice across different types of content?
Measurable success: Is there evidence of the success of the agency's previous work, such as increased site traffic, conversion rates, or overall sales?
Creativity and innovation: Does the agency's work stand out through unique product descriptions, catchy headlines, or engaging storytelling?
Alongside this, testimonials and reviews serve as crucial evidence of the agency's expertise. Especially valuable is feedback from clients in industries similar to yours or who have undertaken comparable projects.
Our Work: CopySmiths showcases a range of positive testimonials from eCommerce store owners, highlighting their success in delivering high-quality services.
2: Evaluating Client Reviews and Success Stories
Investigating an agency's track record and testimonials is a critical step.
These reviews can showcase the agency's history of success and their problem-solving approach.
Look specifically for testimonials that highlight tangible results achieved through their copywriting efforts.
In addition, pay close attention to feedback on their timeliness, communication, and responsiveness. These are aspects paramount to a successful partnership.
CopySmiths prides itself on client satisfaction, with testimonials highlighting their professionalism, collaborative approach, and ability to meet deadlines.
"…They also do this relatively quickly, so the turnaround from our delivery of targeted keywords and topics to their finished pieces felt like a breeze! I would recommend their team to anyone looking to boost their content strategy but may not have enough resources in-house to do so." — Eileen Shaw, MVP Visuals
3: Exploring Their Research Methodology
An experienced agency will have a robust process to understand your business, audience, and industry trends.
Professional copywriting agencies may begin by conducting a business analysis, audience profiling and creating buyer personas, competitive analysis, industry monitoring content auditing, and continuous learning and updating.
If they only conduct superficial research, it leads to ineffective messaging, off-target campaigns, and ultimately, wasted resources on strategies that don't deliver desired results.
4: Awards and Recognition: Testimony to Their Expertise
Awards or recognition can indicate an agency's high-quality work.
To give you an example, our very own trailblazer, Katrina McKinnon, holds the honor of being one of the original 50 members to establish eCommerceFuel.com.
Not only that, she's been a speaker at three of their conferences.
She's been a driving force behind some game-changing practices in eCommerce, such as off-shoring and content marketing, that are now considered the norm.
5: The Powerhouse Behind Success: An Experienced Team
The qualifications and experience of the team members matter; make sure they're equipped to handle your industry.
Does the team understand SEO optimization techniques?
Do they have a strong grasp of eCommerce and digital formatting necessities, like adapting copy for mobile or desktop and integrating it with various platforms?
The CopySmiths team is filled with top-notch content writers who undergo a thorough SEO Copywriting Training program, eCommerce Content Specialists, eagle-eyed quality checkers, and sharp editors who live and breathe creating stellar content.
We don't just slap words on a page. Oh no, we roll up our sleeves, dive into research, double-check facts, and tailor-make each piece of content to offer genuine value to your audience.
We're all about setting the bar high, and then jumping over it.
Learn more about us and our unique selling proposition.
If you're still unsure, assigning the agency a small project can provide insight into their industry knowledge, reliability, and quality before diving into a larger commitment.
An agency like CopySmiths, with its understanding of eCommerce and various other industries, uses this expertise to consistently deliver compelling and effective copy.
The following table presents key factors to consider when conducting research on copywriting agencies, encompassing industry expertise, experience, portfolio quality, client testimonials, pricing, turnaround time, and the collaboration process.
| | |
| --- | --- |
| Criteria | Description |
| Industry expertise | Assess the agency's knowledge in your industry |
| Experience | Evaluate their years of experience |
| Portfolio quality | Review the quality of their past work |
| Client testimonials | Check feedback from previous clients |
| Pricing | Consider the cost of their services |
| Turnaround time | Look into their estimated project timelines |
| Collaboration process | Understand their approach to working together |
Unveiling the CopySmiths Difference: Streamlined Process and Transparent Pricing
When selecting a copywriting agency for your eCommerce store, it's crucial to delve into their process and pricing to ensure seamless collaboration and avoid any unexpected costs or delays. 
Here's how CopySmiths sets itself apart with its efficient process and transparent pricing structure:
Collaboration and personalized approach: CopySmiths takes pride in involving eCommerce store owners in the copywriting process.

We value your insights and work closely with you to understand your brand voice, target audience, and marketing objectives.

This collaborative approach ensures that the copy created aligns perfectly with your vision and resonates with your customers.


Streamlined workflow: We maintain a streamlined workflow to deliver high-quality content within agreed-upon timelines.

Our team of experienced copywriters follows a structured process that encompasses research, ideation, writing, editing, and proofreading.

This systematic approach ensures efficiency and maintains consistency throughout the project.


Transparent pricing: CopySmiths believes in transparent pricing, eliminating any hidden costs or surprises.

When discussing pricing, we provide a clear breakdown of the services offered and the associated costs.

Our goal is to provide affordable services without compromising on quality, ensuring that you receive exceptional value for your investment.


Customized packages: We understand that every eCommerce store has unique requirements.

We offer customized packages tailored to your specific needs, whether you require blog writing services or a limited email sequence.

This flexibility allows you to choose the services that align with your content strategy and budget.
Our streamlined approach and clear pricing make CopySmiths a reliable choice for eCommerce store owners seeking quality copywriting services.
Choose Wisely for eCommerce Success: Avoiding Common Mistakes When Selecting a Copywriting Agency
In the bustling eCommerce universe, finding your perfect copywriting partner becomes the game-changer that sets your success story in motion.
As an eCommerce store owner, you must roll up your sleeves, delve into portfolios, consider your audience, and ask hard-hitting questions.
Dodge the common mishaps in the selection process, and you're on track for standout services, a mirror-matched brand voice, engaged audiences, and sky-high conversion rates.
CopySmiths is your go-to crew for eCommerce copywriting. Our diverse portfolio says it all.
We don't just do copy. We spin bespoke stories that engage, collaborate closely with clients, and put a personal spin on their approach.
"…From the beginning, the Copysmiths team has been fast at absorbing dry, industry-specific material and converting it into interesting and light online content. Our expectations have been met and exceeded…" — Linda Pasinli
Partner with us and power up your content marketing, amp up your SEO, and boost conversions.
---