A Quickstart Guide to Writing Blog Post Outlines
George RR Martin once said that there are two types of writers – "gardeners" and "architects." Gardeners build a careful web of ideas, a detailed blueprint, and then create a story around it.
Architects build fictional worlds, plant their characters, and wait to see what happens.
But that's fiction.
As a non-fiction e-commerce writer, you shouldn't skip writing outlines.
If you do, you'll have poor article flow and a bunch of disjointed ideas all over the place. And that's precisely the formula that causes your readers to lose interest.
So, opt to write an outline. You'll get well-planned, quality content that holds attention. And this, dear reader, is what converts leads into customers.
What better reason to outline your content?
Here's your quickstart guide to writing blog post outlines.
1: Come Up With Your H2 Headers
When starting with your blog post outline, you want to list the main ideas first. These are typically H2 headers that are the main area of focus to your readers.
Here are a few ideas to help you jump-start the process:
Follow these tips to make your blog post relevant to the reader. 
But if you want Google to consider your posts relevant too, you'll need to do the following.
Google gives the go-ahead to using a clear heading hierarchy. This is what boosts your on-page SEO.
Wrapping your main ideas in H2 tags is a good signal to Google that your article is the right match for the specified search term. It signifies that your content is relevant.
In his On-Page SEO Checklist, Brian Dean advises using your target keyword in your H2 tags.
So, if your target keyword is 'blog post outline', make sure to inject it into at least one H2 heading.
2: Use H3 Headers to Develop the Topic Further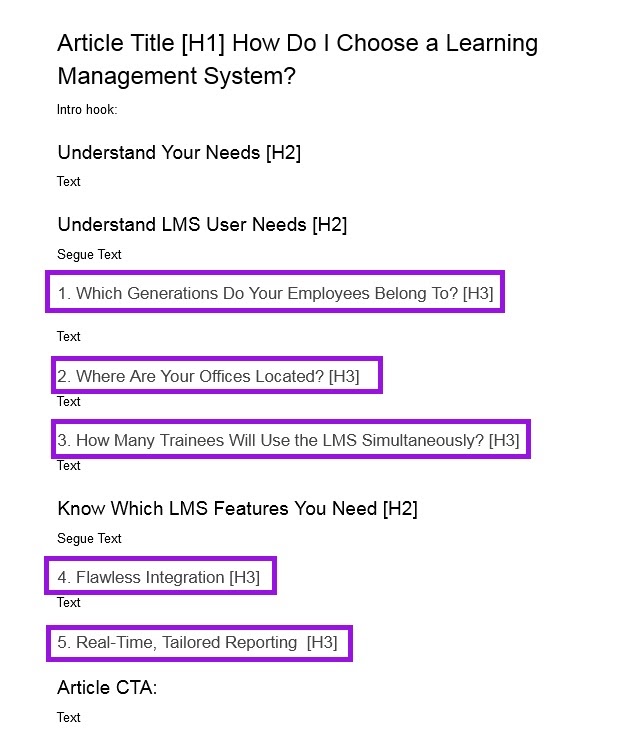 Let's expand on the point above. The deeper your heading hierarchy goes, the more brownie points you get from Google. So make sure you include H3 title tags when outlining your blog post, if possible.
This is where you get into the nuts and bolts of the concepts you're writing about. You're moving from general to more specific aspects of the topic, which results in a well-rounded blog post.
Now, to make your H3 headers more appealing to both Google and your readers, act on the following tips:
Nest your target keyword into H3, but don't overdo it. Make sure it's contextually relevant.
Create a numbered list. This raises the odds that your article will end up in the featured snippet position.
Stay away from cryptic subheadings. Instead, make sure they describe what your piece is about. The reader needs to be able to immediately understand what it is that you're talking about by merely skimming the post.
3: Add Bullet Points to Delve Deeper Into the Topic
At this point, it's time to add bullet points into your blog post outline. This helps you keep track of what you want to include in your article.
Conversely, skipping this step can cause you to lose some of your most valuable ideas. And for a writer, there's nothing that can redeem the feeling of loss when a million-dollar idea slips from your mind. You know exactly what we mean, right?
Also, deciding for or against fleshing out your outline can determine whether your post achieves the desired effect or not.
Because this will determine the fate of your finished piece as well. 
We can't stress this enough. You won't be able to nurture existing leads into conversions if you don't provide relevant in-depth content. So make sure you add enough meat to it.
We don't have to tell you, generic content is a content marketing turn-off.
4: Jot Down Your Introduction Hook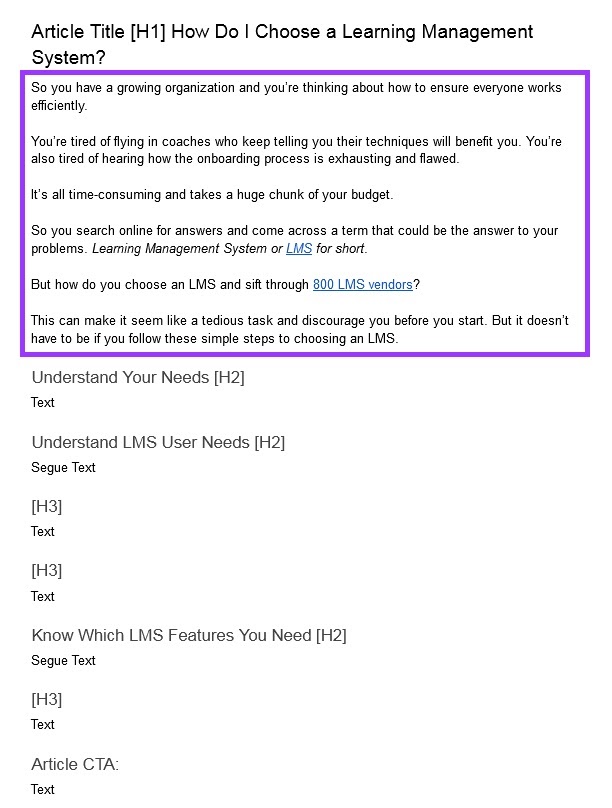 The introduction is the first thing your readers see upon landing on your blog page (apart from the heading). More and more marketing experts nowadays are asserting its importance.
You should trust them when they say you should do your best to make your introductions stand out.
If you don't, it may also be the last thing your visitors see, before they bounce off your page.
Truth is, it's a mad race out there for readers' attention. 
If you want to be on the winning side, learn how to write an attention-grabbing introduction.
Here are the main goals every introduction should achieve:
Lead the reader into your story.
Hook the reader, so they read through the post.
Use a thesis statement to map out what the article is all about.
And now the big question. How to draw the reader into your piece in a world teeming with billions of other content pieces? 
You can base your intro hook on a question. Here's a great example featured on Wordsrtream.com.
"Did you know that the first American movie to show a toilet being flushed on-screen was Alfred Hitchcock's 1960 psychological horror classic, Psycho?"
Now, here are a few other tips from blogging experts on how to write compelling introductions. Try using:
Quotes
Personal stories
Anecdotes
Statistics
Trivia
Empathy
5:. Insert Relevant Sources in Your Blog Post Outline
If you want people to click, read and convert when on your blog page, you must get one more thing right. Create engaging, data-driven content.
You need to offer them credible advice they crave. And then pack it in an easily digestible format.
Have a look at what Sherri Powers, director of marketing at TechSmith has to say about this.
"After consuming your content, readers or viewers walk away with advice, steps, or insight they can apply to a job they need to get done. Additionally, they can get through the content in a reasonable amount of time and are engaged enough to keep reading or viewing all the way through."
Making your content relevant starts with the outlining phase
Use all the resources available to back up the assertions you make. Grabbing some interesting sources while crafting your outline will make the actual writing less painful.
With a blog post outline, you'll have a structure you can go back to in the research phase. This reduces the act of going back and forth, from scrutinizing the sources to writing and vice versa.
This is how you save your valuable time.
Get Quality Content Every Time
Brushing up on your outline writing skills pays off. Follow the steps in the guide above. This will ramp up your efforts to generate quality content at a quicker pace.
And it's simple. It's a matter of learning the tested strategies and applying them to your content creation.
But it can get simpler than that. The proven way to scale your content is to rely on a content creation agency to be your professional backup.
It's a smart way to reduce pressure on your content marketing team at crunch time.
---