Creating Content In-House vs. Outsourcing: The Pros and Cons of Both
With quality content, you can attract the right kind of attention and draw traffic to your site. On top of that, you can entice your customer to buy from you instead of competitors. 
To get high-caliber content, you need to work with competent creatives who understand your vision and can put it into the right words, images and videos.
You can hire a team of full-time in-house writers or outsource your content writing to the wide pool of content companies and freelance writers on the market. 
Let's explore both options objectively so you can make an informed choice for your writing solutions.
Option 1 - In-House Content Creation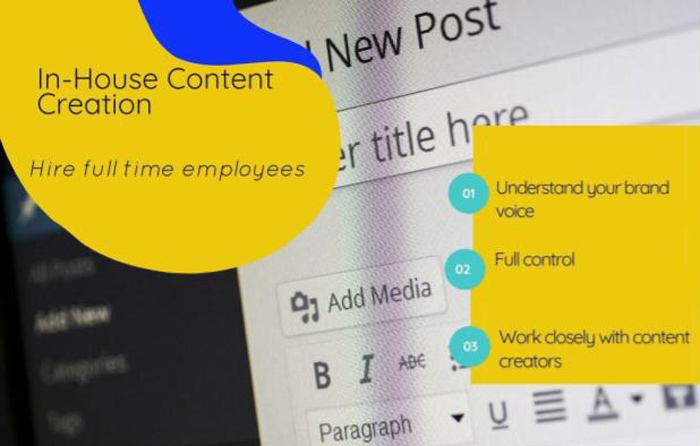 An in-house content creator is your employee who is engaged in writing either full-time or part-time. Often, the person has a defined work schedule and gets a salary as agreed in the contract.
Pros of Employing In-House Writers
No one knows and understands your brand better than someone you work with closely. An in-house writer fully understands what you do and how you do it.
Hiring in-house writers will also maintain consistency so you can build your brand voice. Giving your brand a consistent voice builds trust and allows customers to remember you.
When you have an in-house team assigned to a particular project, you have the advantage of numbers. The teamwork will make it easier for your team to:
Come up with great ideas during brainstorming meetings
Work together to produce well-thought out, quality articles for your sites
Additionally, a salaried writing team can save you time. There's less back and forth as editors and writers can work together in real-time, ensuring timely uploads to keep up the momentum on your website or blog.
Employing full-time writers can be a costly affair. You will have to pay a salary and other legal benefits and costs that are required for full-time employees.
In addition, the in-house schedule may not offer you value for your money in the long run because you have to pay the full cost even when your writers aren't fully occupied.
Plus, writers will naturally have:
Different areas of specialty
Varied writing styles
Hiring in-house can also limit your content if you don't have writers who can write outside of their comfort zone. Getting your in-house team to explore new ideas will cost you time and money since you'll still be paying them while they're learning.
Option 2 - Outsourcing Writers
Outsourced writers will write as per instructions when you need them. They typically work as independent contractors or as part of an agency. 
One of the biggest benefits of outsourcing is that you can hire a freelancer or agency only when the need arises. You define the scope of work the content creators need to cover and set the timelines. Your content is usually delivered on time as and when necessary.
In addition, outsourced writers charge:
An hourly rate 
A flat fee which you can pay before or after the project depending on the contractor
As a result of this arrangement, you only pay for content when you need it, saving you money on salaries and benefits. It will also offer flexibility when you need to pinch pennies, like during an economic downturn.
Contracted writers have various talents and areas of specialty, giving you a variety to choose from depending on the content you need. When you select a freelancer, you can describe the skills you need and request samples of their previous work.
You have the option to choose a different writer each time you require a different skill set.
Outsourced personnel also typically use their own equipment and software, so you don't have to worry about such costs in your business budget.
Disadvantages of Outsourcing
Although independent contractors have technical writing expertise, they may not quite capture what you want to convey because you don't work together all the time. If the contractor misunderstands your project requirements, it will cost you time and money.
As well, outsourcing may limit your control of the written work. You may have to go through some back and forth with the writer to make amendments. This can result in unnecessary delays in uploads, making you fall behind on your marketing calendar.
Selecting the Right Option for Your Business
According to the research firm Forrester, 71% of customers start their buying journey with a search engine query.
You can maintain an advantage over your competitors if you consistently publish relevant content to your site. With good content, you can go from coasting through the market to becoming a thriving enterprise.
The quality and frequency of content you upload can make all the difference. It can help you:
Become more visible and increase traffic to your sites
Give your customers crucial information about your products and services
Build your brand's reputation
Attract potential customers
You can also improve the way you engage with customers and meet revenue targets. When you post relatable content, your audience will trust and connect with you, which will drive your sales.
Not only that, but with good content, you can improve your search engine rankings. The higher you are on the Google results page, the higher the chance that customers will find you.
Bottom line: you should not take your content creation process lightly—it can make or break your business.
So, what's the final verdict? Is it better to outsource or hire in-house?
Factor
In-house
Outsourcing
Cost

Requires salary and benefits throughout the year so can be more expensive

Pay as and when you need content so it will work out cheaper

Content quality

More time for brainstorming
Usually stays on-brand

More options for content styles and variety
There isn't a right or wrong choice. Your decision will ultimately be determined by factors such as:
The size of your business
Your budget
The goals of your marketing strategy
For larger businesses with the budget to afford extra costs, you can hire in-house content creators. Or better yet, have the best of both worlds—hire resident content creators and outsource from time to time for specific projects.
If you're still growing your business, the outsourcing option may work better for you. It will allow you to produce top-notch content and grow your customer base while keeping costs down.
Whichever option you choose, the end goal should be to produce valuable, high-quality content that will increase traffic to your website and ultimately increase conversions.
Your content should be interesting and easy to consume to keep readers hooked. It should also show expertise and authority and engender customer trust in line with Google's guidelines.
The table below shows some examples of the expectations for different content types:
Content type
Expectations
Blogs
Videos

Well shot
Steady, with proper lighting
Clear audio

Infographics
Email Copy

Short and to the point
Compelling subject lines

Web Copy

Organised and easy to follow
Tells a compelling story
Focuses on benefits over features
Whether you hire your own writing team or choose to outsource, ensure that you work with reliable people. If you decide to outsource, choose reputable content creators, such as CopySmiths, with a track record for delivering content that produces results.
"We have used CopySmiths on several occasions to assist with blog content for our website. Their approach is strategic and SEO results driven, which is exactly what we needed. Their communication is excellent and their transparent use of SEO tools to ensure their content is competitive was really impressive, and greatly appreciated. The quality of the articles has been consistently high, and as such we look forward to continuing to work with them in the future." – Chris, Red Kite Design
Share on LinkedIn:
---