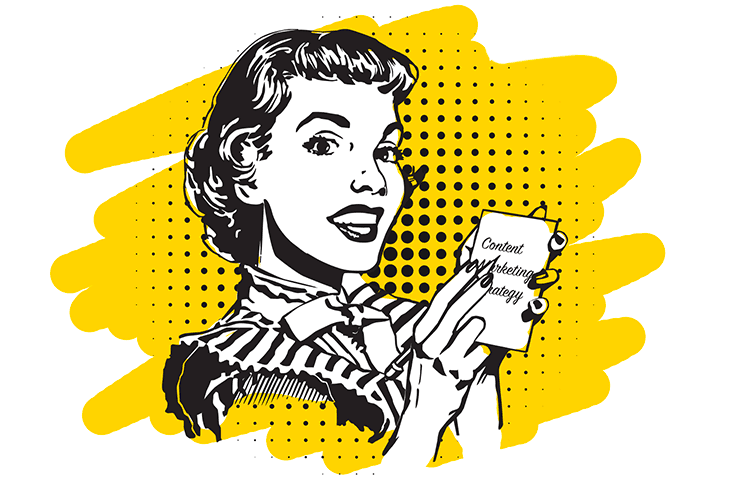 What is SEO Content, Exactly? How to Write Content That Gets You Noticed
In digital content marketing, content is king, and it will always be king. And when we talk about content, we're referring to pillar pages, blog articles, listicles, product descriptions, etc.
But why is content king? Because the goal of any content is to answer all your target audience's questions and offer solutions to their problems.  In other words, content enables you to engage and attract potential customers.
Another reason why content is king is that Google ranks content that reflects Expertise, Authority, and Trustworthiness (E.A.T). Therefore, writing comprehensive, credible, up-to-date, and authoritative content can maximize your search engine rankings. 
Although content can exist without SEO, a lack of SEO can hurt your search ranking. It means no one will ever read your content. With that in mind, we can not talk about creating rich content without mentioning Search Engine Optimized (SEO) content. 
Why? The goal of high-quality content and SEO is similar—to make it easier for your target audience to find what they're looking for and be satisfied with the results.In addition, writing SEO-friendly content can rank your web page on the first page of Google. 
Consequently, learning to write content for SEO is important. Let's delve deeper into the art of writing SEO-friendly content.
What Exactly Is SEO Content?
To grasp what SEO content means, it's important to first define the two concepts, that is:
SEO (Search Engine Optimization)
The term SEO refers to the process of optimizing your content so your users can find it easily using search engines.
By content, we mean any material you put on your blog that can be crawled and indexed by search engines.  Having said that, SEO-optimized content is content that is written to rank it on search engines like Google, Bing, Yahoo, e.t.c.
Moreover, creating SEO content means optimizing your content for specific keywords. That said, the two terms are interconnected. When we talk about search engine optimization, great content is key to SEO success, and vice versa. 
Content SEO can boost your organic traffic. 
Regularly writing and publishing high-quality blog posts can enhance your SEO content efforts. In addition, optimized content can enhance your relationships with your intended audience. 
Having said that, here are some insights on how to boost your content SEO strategy with our easy-to-grasp cheat sheet.
Cheat Sheet for Creating Content that Attracts Search Engines
Now you know what SEO content means. Here are Google ranking factors to consider in your content strategy:
Keyword research is the process of using a keyword research tool to research and analyze the most searched keywords. Keyword research is critical to your SEO content success—it informs your content strategy.
Here's a video explaining how to do organic keyword research:
The benefits of using a keyword research tool like Ubersuggest, Keywordtool.io, Google Keyword Planner, KWFinder include:
Finding terms with a high search volume
Determining keyword difficulty
Discovering low competition keywords to optimize
Determining keywords relevancy
Looking for interesting topics and sub-topics
Discovering long-tail keywords related to your subject matter
Planning your content strategy
Pro Tip: You can also get long-tail keywords from Google Autocomplete.
Once you're done with keywords research, the next step is to use the keywords effectively. Remember to use your target keyword within the first 100 to 150 words. Google tends to recognize keywords that appear early.
Your blog post can rank at the top of SERPs when users search words and phrases related to your content. More importantly, use high-volume keywords with low competition as they can boost your ranking power significantly.
Pro Tip: Avoid highly competitive keywords because you will not be able to rank for them.
If you want to boost your blog ranking, it's important to incorporate on-page SEO copywriting techniques. That said, on-page copywriting tips include:
A well-crafted URL helps your users to understand what the destination page is about. Furthermore, a URL that includes your target keyword can improve your ranking and organic search results.
Pro Tip: Ensure that you use a short URL because short URLs tend to rank well on search engines.
Incorporate Keyword in the Title Tag
The title tag should contain the main keyword, preferably at the front or within the first four words of a search query.  This lets your readers know what content they will see when they open your blog post.
In addition, it lets Google know what your web pages are all about and index them appropriately.
You can add action words like Get, Learn, Make and Take in your title tag to encourage your users to click through. 
Pro Tip: The title tag should be about 50 to 60 words.
Insert Keywords on Header Tags
Headers are an important component of your on-page SEO strategy.  Why? Because Google's search engine will have an easy time understanding and crawling your page.
Besides, judiciously and naturally optimizing your H1, H2, and H3 etc.with your desired keyword creates a good user experience.
Pro Tip: Don't make your headings look spammy by keyword stuffing them.
Start Your Content Creation Process
Without good content, you will not be able to realize the benefits of SEO. Consequently, ensure you write and create relevant content that communicates Expertise, Authority, and Trustworthiness (E.A.T).
Use the long-tail words and phrases you've discovered to create the type of content your audience wants.
To make an impact on your intended audience, ensure you create content that is shareable and linkable. It makes sense to create linkable content.If you don't, then you minimize your chances of attracting traffic or ranking.
In addition, your content's readability score should be 8 or below, which means your content is easy to understand.
Pro Tip: Lengthy articles of about 1000 to 2000 words have a higher chance of ranking.
Write a Compelling Meta Description
A meta tag is a short description of your page that lets Google know what your blog features.
According to Google's SEO starter guide, adding a meta description is highly important. Why? Because Google's search engine may not find a suitable section in your content to use as a meta tag.
Therefore, ensure you create a meta tag every time you create content.
It can boost your ranking.
Insert Several Copyright-Free Images
You've probably heard the adage, "A picture is worth a thousand words". If yes, then image optimization is an invaluable SEO strategy.
Inserting images is an easy way of conveying your message, and driving traffic to your blog.
Remember to:
Insert relevant images
Use high-quality images
Add image alt text
Optimize image description
Compress images
Insert unique images
Pro Tip: Avoid cluttering your content with stock photos. A custom photograph is better. It gives you control over the thoughts and emotions expressed by your blog.
Optimize your Content for Search Intent
Understanding your target group's search intent is critical to your content strategy. Establishing the kind of content they expect to consume is a strategy that can help you produce high-quality content. 
In addition, understanding why people search for certain terms can boost your ranking.
The three types of search intent are:
Informational: Someone is at the awareness and discovery stage, and wants to learn or gather more information on their topic of interest.
Navigational: Someone is at the awareness and discovery stage, and wants to navigate various products, services, pages, and resources. 
Transactional: A visitor wants to buy a product or service after doing their research.
Pro Tip: The web page or blog associated with the search terms you want to rank for should match a user's search intent.
Analyze the Google Search Results for Your Content
Poor visibility on Google Search can mean missing out on potential customers and revenue.
Therefore, it's important to analyze your organic traffic to assess the success of your content strategy. Furthermore, analyzing your blog lets you know how it's performing.
There are various analytics tools you can use to assess performance and user behavior.
For instance, Google Analytics can help you determine:
Pageviews
Time spent on a page
Average session duration
New and returning visitors
Pro Tip: Google Analytics tool is free. Check out this guide on how to set up Google Analytics for your blog.
What is the Secret for Creating Content That Generates Lots of Organic Traffic?
Have you been asking yourself how some people can create content that generates significant search traffic, but yours doesn't? If yes, the secret is to have a content strategy in place. 
What does that mean? Supposing you have comprehensive and valuable content, you can improve your organic search rankings by:
Having evergreen content, which is SEO optimized content that is consistently relevant, ever fresh, and up-to-date.
Optimizing for several keywords with high search volume.
Ensuring your content has lots of high-quality backlinks
If you create valuable content, your content will get more shares, more references, and eventually more backlinks. Valuable content will get you noticed.
---