9 Reasons Why You Should Hire Blog Content Writers
As beneficial as web content writing services have proven to be, they come at a price. Horror stories abound of how they have failed to measure up to expectations of cost, quality, and timeliness.
On the other hand, successful content writing services have created new avenues and opportunities for growth.
A competent writing service is beneficial to your website, whether you're in the business of e-commerce, blogging, or marketing.
How will you benefit from hiring web content writers?
Traditionally, you would hire an in-house writing team. This involves a lot of extra resources and costs.
With content writing services, you save on labour costs such as salaries, benefits and taxes. This frees you to invest in the core activities that make you profitable — without sacrificing the quality of service.
What's more, you get professional content without having to hire full-time expert writers. Your fixed costs then become variable costs that you incur only when you need content.
Further, you can negotiate competitive rates with freelance web writers. Most will give you a discount, especially as a repeat client.
At CopySmiths, after working together on 100+ articles, we are happy to discuss reduced rates.
Writing blog content consistently can be time-consuming, especially when your core activities take up most of your day.
Ever wonder how often you should blog? According to HubSpot, to maximize organic traffic:
Small blogs need to publish new posts 3-4 times per week.
Large blogs need to publish new and updated posts 4-5 times per week.
Hiring a blog writing service will ensure that you have a consistent stream of high-quality SEO articles to publish on your site.
At CopySmiths, we can write blog articles in batches to help you meet your frequency goals. We base the content on the topics you want to discuss and incorporate new ideas relevant to those topics.
We can load the written content to your Content Management System and set it to publish or save it as a draft depending on your preferences.
Apart from sticking to a regular publishing schedule, writing services can help you achieve brand consistency in terms of voice, tone and style.
No one knows your brand voice better than you. You can either provide the content writer with a branding guide to help them understand your voice or they can ask you relevant questions.
At CopySmiths, we include additional information on the brand's voice and SEO content goals into each brief for our writers. We capture your company's style and voice to create blog content that reflects your values and goals.
Great blog content takes time to research and create.
Not to mention the time spent optimizing and marketing blog content to build your online presence. Not only is it time-consuming, but it's also exhausting. 
A good content writing service will deliver articles promptly and you rarely have to negotiate new deadlines. Besides, you avoid spending time hiring and training in-house content creation personnel. 
Outsourcing means you can focus your time and energy on the main aspects of your business, increasing your efficiency.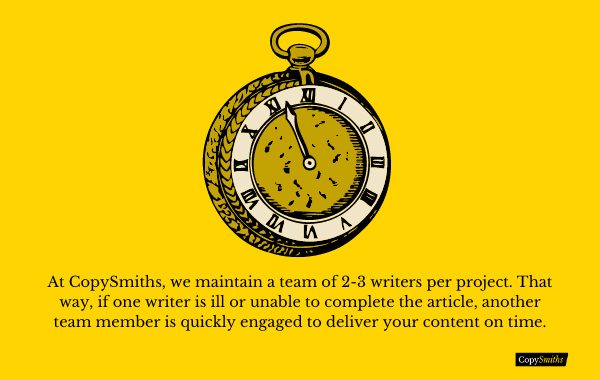 We understand the critical balance between fast turnaround and high quality — which is why we prioritize delivering exceptional SEO content on time. Every time.
Consistently publishing quality SEO content ensures that your audience finds value in returning to your blog site again and again.
Expert content writing agencies have in-house training programs for their writers to complete before hiring. They only hire the best, ensuring that you get superb written content that is also optimized for SEO.
Furthermore, content writing service providers have a rigorous review process in place. They engage in-house editors and your content passes through various quality control steps.
You, therefore, receive high-quality articles that require little to no editing on your part.
If you're unsatisfied with the quality, writers allow you to request edits with specific restrictions.
At CopySmiths, we allow a maximum of 2 revisions to delivered articles, encompassing 20% of the total word count.
To reach a larger audience, you need to produce unique web content.
Solid writers can look at a subject from multiple perspectives, ensuring that the web content is always fresh and exciting.
As industry outsiders, they know how to bring out the message in your content without using industry jargon and technical words that make it hard for your audience to understand.
Enjoy Diverse and Inclusive Content
Blog content writers can be physically located anywhere in the world, giving you access to diverse, inclusive and original content.
Odds are, many people within your audience have something unique and special about them — whether that's related to race, ethnicity, gender, sexuality, or physical abilities.
Inclusive content can help you connect on a deeper, more meaningful level with your audience. Research by Microsoft has shown that inclusive advertising done authentically feels like connecting with family. It produces feelings of joy and trust.
Furthermore, writers in the content service agency can brainstorm and bounce ideas off of each other. This leads to unique content built on their collective knowledge and experience.
Generate More Website Traffic
Web writers know how to create SEO optimized content.
They take the time to understand a user's search intent on a topic and curate blog articles in a way that provides a solution to the user's problem. Because search engines provide results that address the user's specific question, your blog will rank higher.
According to a Hubspot survey, 64% of marketers actively invest time in search engine optimization. 
Furthermore, content writers can suggest keywords to help boost organic traffic to your site.
At CopySmiths, we have an in-house SEO copywriting training program that every writer completes before they begin writing content. Our SEO content ensures that the right people find your website.
Our client, Lodge Technology, couldn't agree more.
Profit From Increased Sales
For most websites, all other metrics are secondary; sales are what truly matters.
According to the Hubspot survey above, the most common measurement of success for content marketing programs is total sales.
In addition to being SEO optimized, your content must be purposeful and beneficial to your audience, making it worthwhile to spend their time and money on.
Our expert writers can identify topics that align with your business, industry or product. They then customize the tone to resonate with your target audience and convert them into customers.
According to Dragon360 Marketing Agency, "61% of consumers say that they are more likely to buy from a company that provides custom content."
At CopySmiths, our writing makes people want to read. We tell your brand's story in a way that builds trust.
---