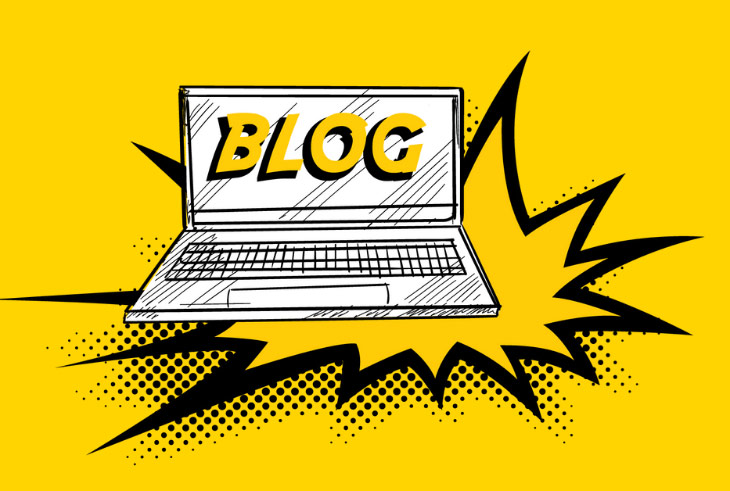 How to Maintain a Successful Blog
There's nothing like a successful blog to help you build a rapport with your audience and increase sales through content marketing.
Blogs allow you to write exhaustively about the particular goals or pains that your audience might have. They also allow you to describe the many benefits of using your product or service.
Perhaps you're looking to run an eCommerce blog. Or maybe you're interested in joining the ranks of businesses with blogs since they experience 126% more lead generation.
Whatever the case, the following quote by serial digital entrepreneur Brian Clark gives us a wonderful idea of how to go about maintaining a successful blog:
"Don't focus on having a great blog. Focus on producing a blog that's great for your readers" – Brian Clark
The results will speak for themselves. Your blog will:
Help your website rank high in search results
Convey quality to your regular and first-time visitors
Let's assume you already understand your target audience as we jump right into our top tips.
Being consistent in adding new content to your blog is key to building and maintaining a steady audience.
Blogs are almost like an online journal, which means that some regularity is expected. Your readers will abandon ship if you fail to provide new content on a regular basis. It's crucial to set a schedule for posting new content and to stick to it.
This isn't the time to be over-ambitious. Don't promise new content daily only to fail to deliver. It's much better to promise new content once a week, and then occasionally post twice or thrice a week.
As you deliver content, ensure your blog entries cater to your target audience. You can do so by:
Offering content they perceive as valuable
Building upon previously published content
Adjusting your focus as trends or demands change
Staying on topic and catering to your target's needs
Sometimes holidays, emergencies, or even acts of God can prevent you from keeping to your schedule.
If unexpected delays do occur, maintain your consistency by making use of scheduling tools that allow you to automatically publish articles—even if you're not at your desk. However, scheduling only works when you have a surplus of finished articles on hand.
Don't tread close to your deadlines waiting for inspiration to strike. Instead, learn what customers want to read on your blog, or get professional help if you're too busy.
You'll have a blog content calendar set up in no time to build up a handy reserve of excellent articles.
2: Create Evergreen Content
Evergreen content is content that's optimized to drive traffic and remain relevant for months, or even years, at a time.
Because evergreen content doesn't age or go out of style, there's always a good number of people interested in and searching for it.
To ensure your blog posts remain evergreen:
Write comprehensive in-depth guides and tutorials.
Update their content whenever it feels a little stale.
Avoid using specific dates or referring to current events.
Periodically repost your blogs on social media to spark new interest.
It's important not to confuse evergreen content with trending content. Blog posts with evergreen content may also get a high volume of traffic initially, but they'll retain sustained traffic over time.
Trending blog posts, on the other hand, usually have a high initial search volume which proceeds to drop fairly quickly.
The table below shows how the timeless nature of evergreen content makes it an excellent bet for your business:
What Evergreen Content Does

How Evergreen Content Does It

Boosts search engine rankings

By positioning you as an authority in your industry
By boosting your Expertise, Authoritativeness, and Trustworthiness (E-A-T) score on Google

Keeps your business relevant

By providing readers with valuable and relevant content
By keeping your readers interested in staying on your page for longer

Draws in organic traffic

By answering questions that people always have a healthy level of interest in
By making it possible for readers to find your content (for which there's a sustained level of interest)
3: Always Convey a Professional Image
Conveying a professional image is one of the most reliable ways to provide an exceptional reading experience for your audience.
Try and keep your blog's layout clean, fresh, and clutter-free. A blog that's easy on the eyes will please your visitors and have them coming back for more.
You can ensure your blog looks and feels professional by tweaking its design and layout so that:
Relevant visuals, such as images, lists, and tables, break up walls of text.
Paragraphs look presentable with enough white space between them.
The content is skimmable (organized into headings and subheadings).
The fonts you choose for the body text are readable, web-safe, and easy on the eyes.
Naturally, using a consistent brand voice across your blog platform is crucial for communicating your professionalism. It will distinguish your brand from others and contribute to your positive brand image.
As any professional knows, credibility is key. Therefore, make sure to proofread your article several times before hitting the "Publish" button.
While you're at it, take the time to ensure that all of the images and links in your blog are functional. Your readers will appreciate links that point them toward helpful resources that will keep them informed and constantly learning.
Broken links and poor grammar will leave your professional image in tatters. It'll also damage your SEO ranking.
While creating blog posts can be time-consuming, it's only half the battle—optimizing your content is the other half.
When you aim to be authoritative in your niche, you must publish thoughtful, well-researched, and well-planned posts.
Fortunately, you can save a lot of time and energy by optimizing your already published content. Such content can be updated, repurposed and republished.
Why would you want to go this route?
Ranking in the search engine results page (SERP) with a completely new blog post takes a lot more time than doing so with a post that's been updated.
This means that repurposing and updating an existing blog post will create positive results sooner than new content.
You can repurpose and update existing blog pages to optimize them by replacing outdated content such as:
Quotes
Statistics
Research
Examples
Service details
Product details
You can also add keywords that you realized were missing after conducting some research.
Determine which posts to optimize by checking their metrics. Check an article's:
Traffic
Keywords
Social shares
Inbound links
When you update content, it's reinvigorated. The upside is that you get to maintain your blog's quality and relevance without having to create all your blog posts from scratch.
Expert Tip: Keep the URL the same when you update and republish your posts. It's also a good idea to add an editor's note to keep your readers from getting confused about your current date of publishing when there might be comments on the post from years ago.
Maintaining a successful blog can sometimes be easier said than done, especially when you're juggling a ton of other responsibilities.
It's okay to get some help, especially if you often find yourself missing deadlines or wondering how to apply SEO content writing to your blog.
A skilled agency might be just what you need to put a unique twist on your blog's content and set it apart from the competition. Here's what a client had to say:
CopySmiths has provided excellent, well-researched, and thorough blog content. I truly appreciate their willingness to work with me. They even publish every article directly through our eCommerce platform. A truly hands-off experience – Ryan Popoff
Reach out to CopySmiths to get started today.
Share on LinkedIn: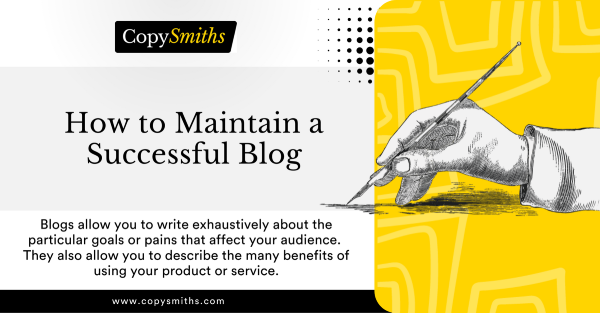 ---